The following is an archived post from the Amiibo Dojo. It has been uploaded to the Exion Vault for referential purposes and retains its original publication date; some of the post's links may not function currently or exist at all.
Sources: https://twitter.com/jprsnsr, https://twitter.com/FanLoxx
Some new amiibo-related information has been revealed today. Roy, the beloved Super Smash Bros. Melee veteran from Fire Emblem, has been confirmed to be GameStop Exclusive thanks to a picture of an updated amiibo display. Furthermore, Ryu's design has been shown for the first time. I'm going to analyze these images in today's article. Let's get started.
GameStop currently has four exclusive amiibo: Ness, Duck Hunt, Mr. Game & Watch, and R.O.B. Shulk was GameStop Exclusive, but his exclusivity deal seems to have expired. This has led many to believe that a store can only have four exclusive amiibo at once, which makes sense.
Toys "R" Us, another retailer that sells amiibo, has had Lucario, Greninja, Bowser Jr., Mii Brawler, Mii Swordfighter, and Mii Gunner as their exclusives. Lucario and Greninja are no longer exclusives; so just Bowser Jr., Mii Brawler, Mii Swordfighter, and Mii Gunner remain. Mega Yarn Yoshi and the reprinted Villager are also their exclusives, though, so this leads me to believe that this rule only applies to Super Smash Bros. series amiibo. Which would mean that Bowser Jr. is no longer store exclusive.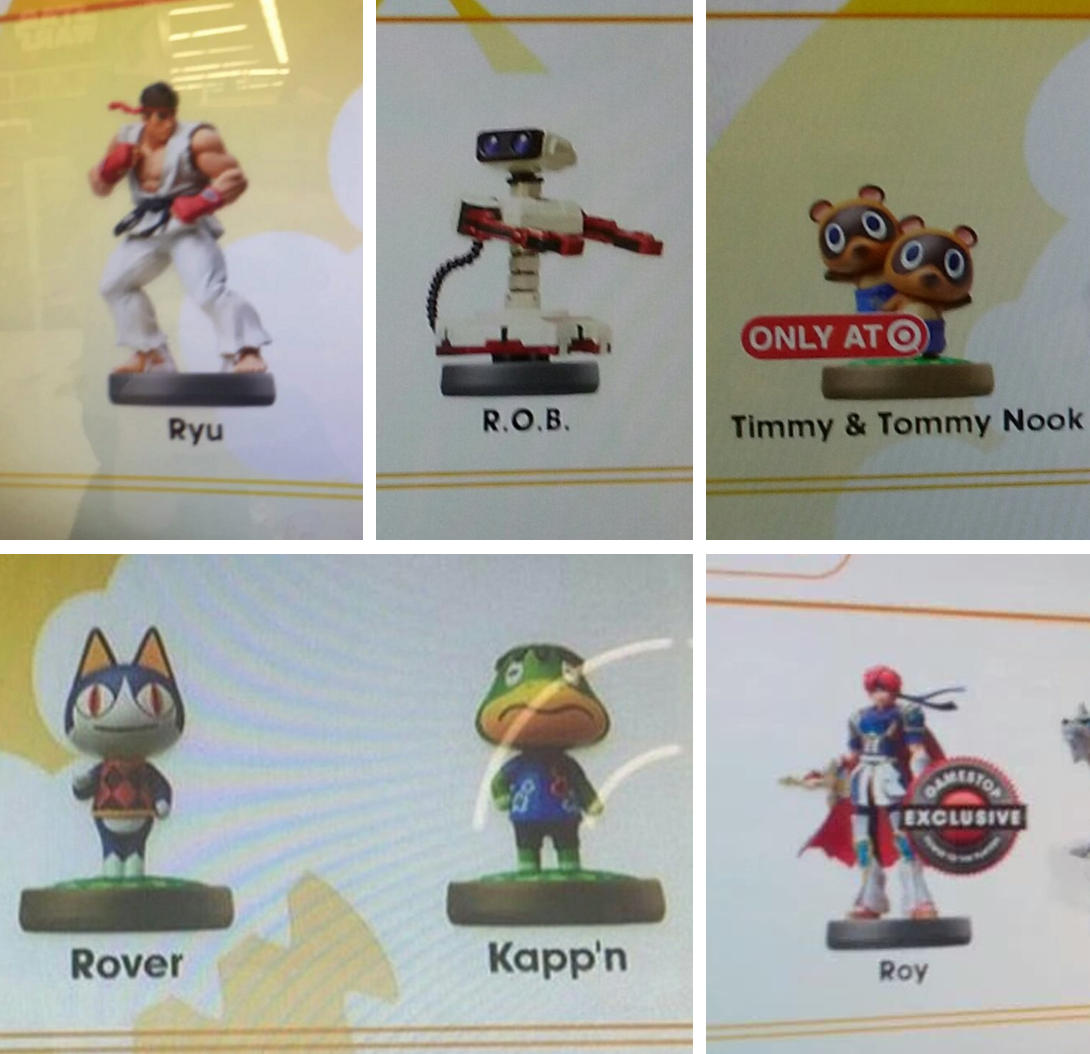 The image above not only confirms the existence of the Ryu and Roy amiibo (as well as the Famicom R.O.B. coming to the U.S. and a few Animal Crossing amiibo), but also implies that Ryu is not exclusive – he's shown in both the Toys "R" us and GameStop amiibo displays.
Just thought this would be an interesting tidbit of information for you amiibo fans – thanks for reading!
---